** 3.3.22-5.5.22
opens 3.3.22 20:00
Tal Alperstein Interior
"Being Space Itself"
exhibition curator and designer
The dreams and the things that make up our most private space, our apartment, are the focus of the exhibition Interior. Over the past three years the artist Tal Alperstein has been conducting an ongoing exploration into the way in which our living environs are designed. In her apartment she set up a laboratory of sorts staging different types of apartments. She used her camera to document the sense of time and distinct character created by each space, the way in which individual rooms behave, and the subtle choreography of the actions that take place in tandem in separate spaces. The result is a trilogy of short films, featured in the exhibition, which offer a poetic reading of the fantasies, emotions and constraints that compose our living environments.
fb
event
אל הים الأيام Alayam
מאי עומר ماي عمر Mai Omer
exhibition curator
We are looking at a documentation of the Menashiya neighborhood as it was filmed by the poet and landscape architect Ayin Hillel (Hillel Omer) moments before its last remaining residents were evacuated in favor of the Charles Clore Park. Designed by Hillel, the park is documented fifty years later by his granddaughter Mai Omer.
In Hillel's documentation the pleasing and naïve images show a lively and happy place a moment before it vanishes – alleys and streets, houses, birds, people strolling at leisure on the shore. Winter, rain and a blue-black sea.
Haaretz
hebrew
edition/1
Haaretz
English
edition
Haaretz
hebrew
edition/2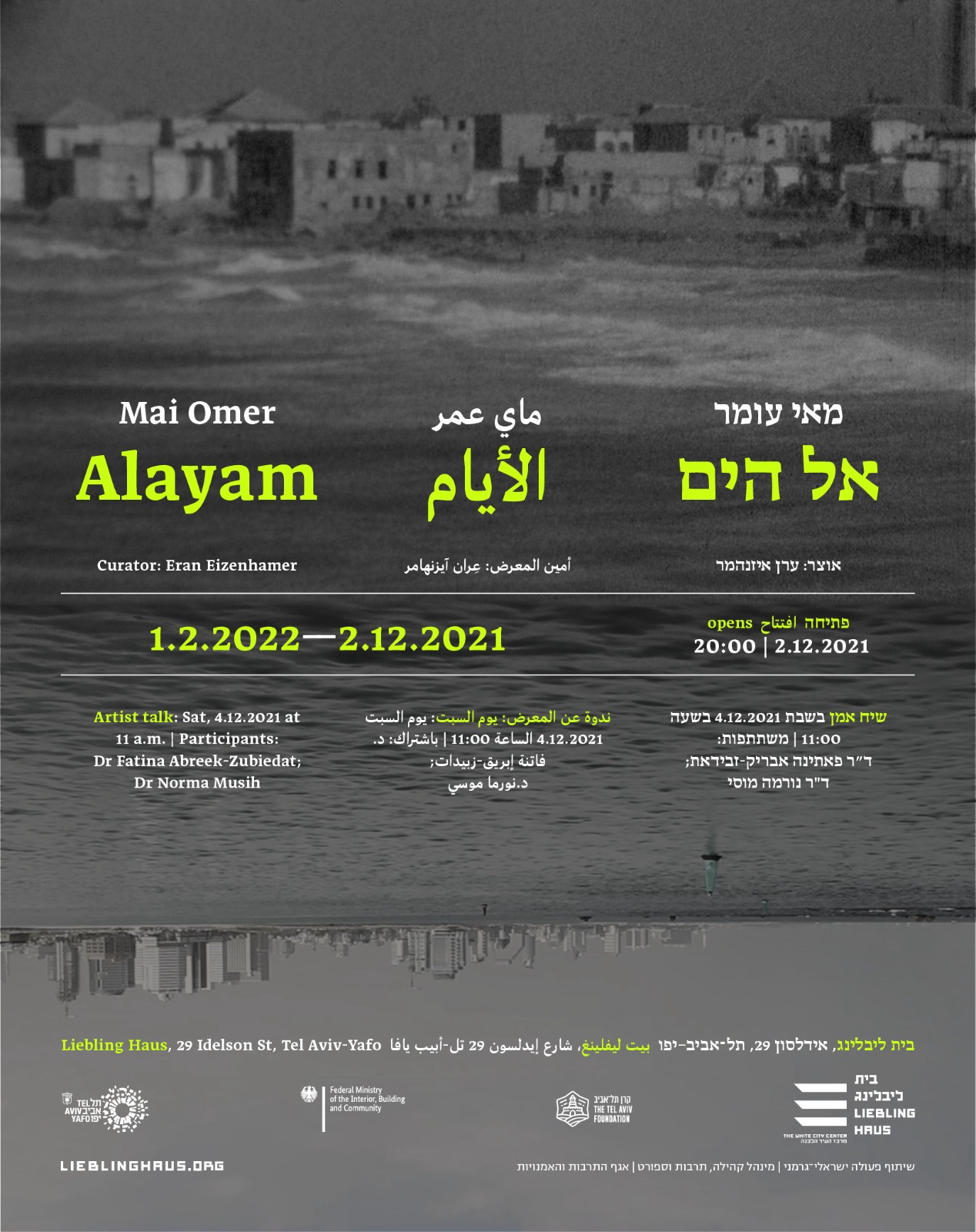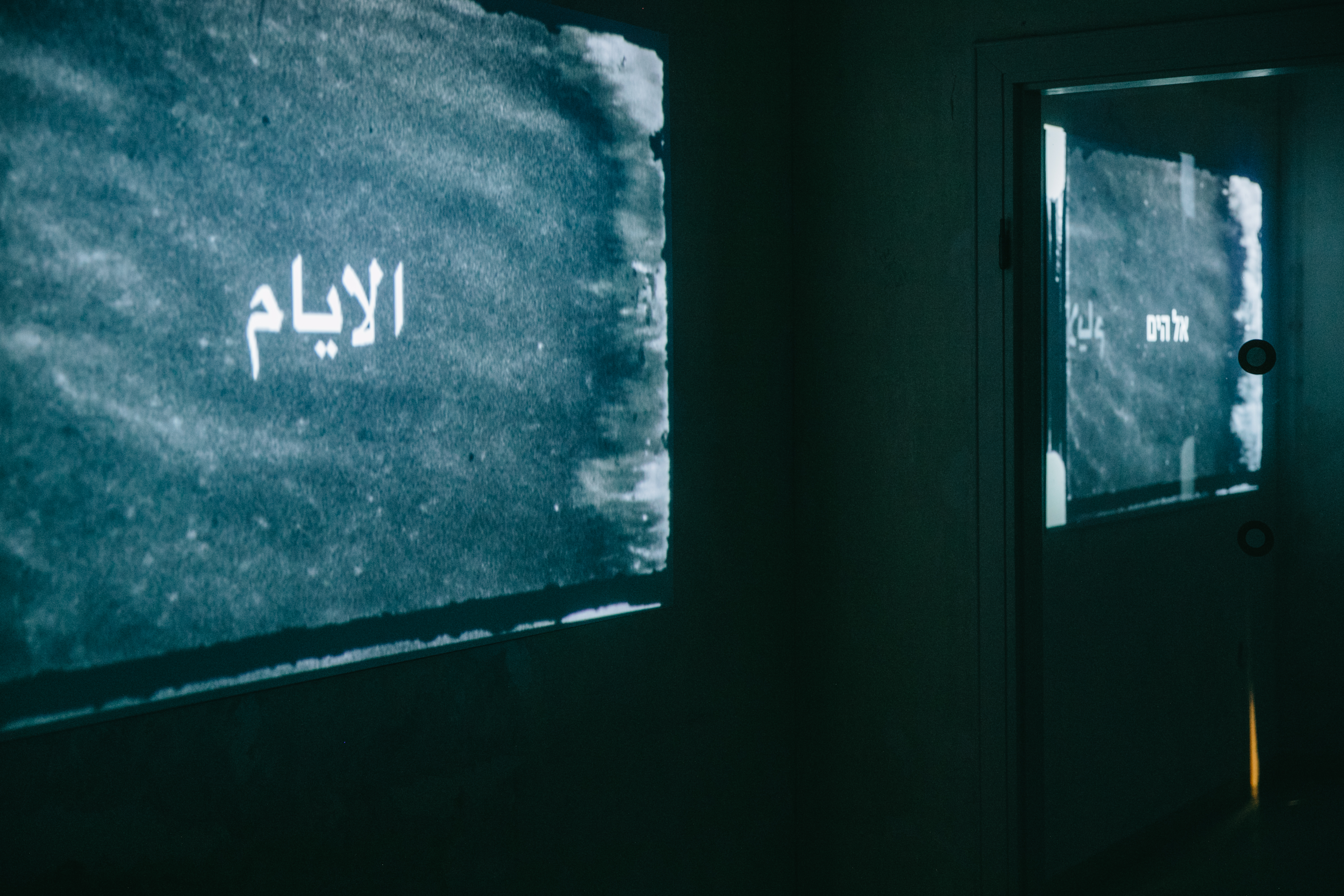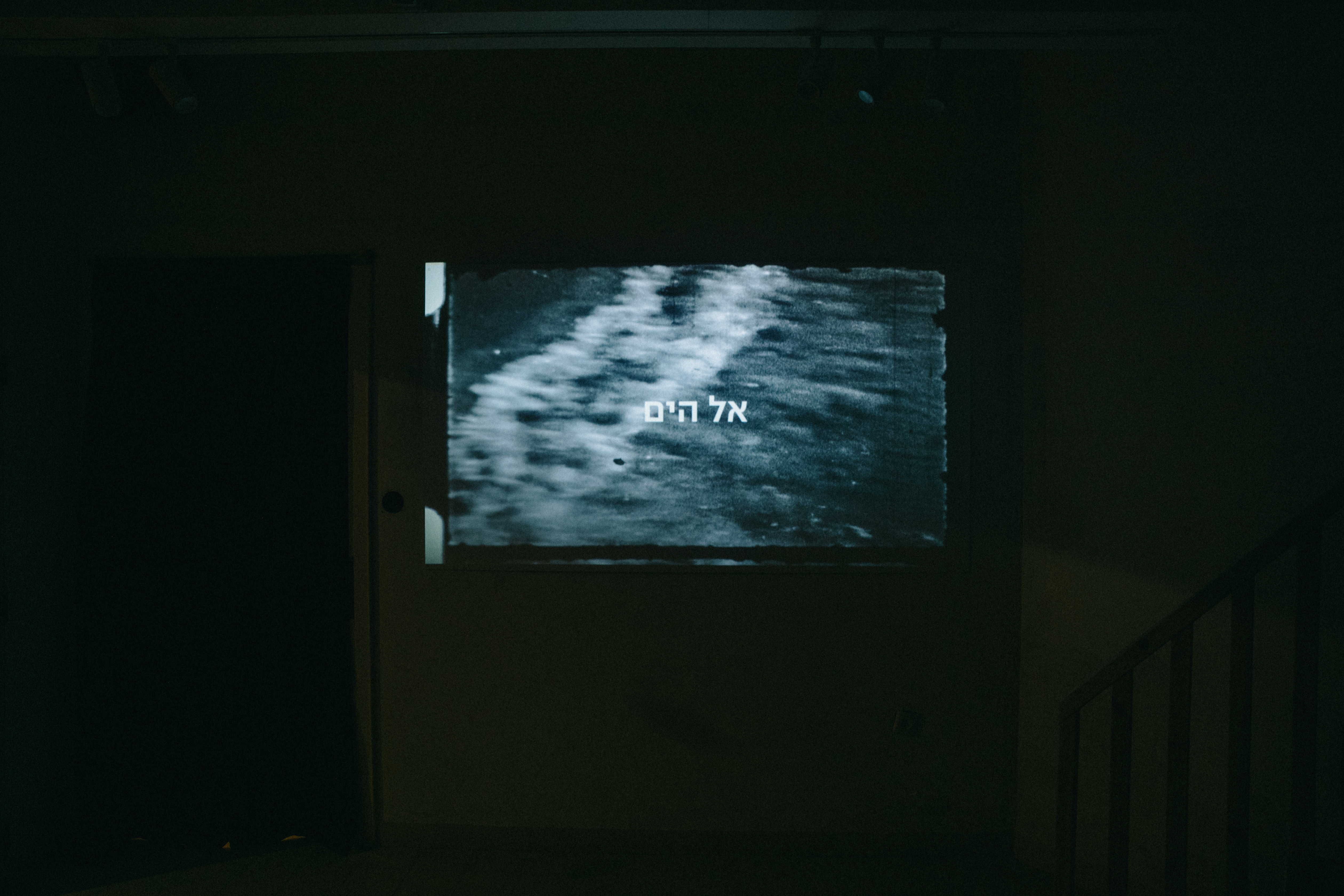 action function 27.1.22
curator: maayan mozes
Action Function features a group of artists presenting their concepts and ongoing research projects through short performances.
Tal Gafni will fold a flat basketball court into a three-dimensional structure, examining which historical and mythical spaces can be conjured when a ball and a court come together. Mai Aylon will share her search of Agave throughout Israel, presenting her attempts to join the enormous plant's invisible parts and monitor its ability to spread in hidden places. Tal Alperstein will present a lecture that encodes artwork into words and sounds, inspired by artists Kandinsky and Jodorowsky's thoughts and her personal experience with encoding. Rotem Volk will present a two-group performance inspired by artist Yoko Ono's work, Yes. Volk created the project for the Amphi's partitioned space. Shani Tamari Matan will perform a solo dance investigating the Unison, featuring dancers performing the same movements simultaneously in equal intervals. Naama Bar-Or will present her study of fashion house Balenciaga, exploring how the company's images transition into other content worlds. (Director: Li Lorian)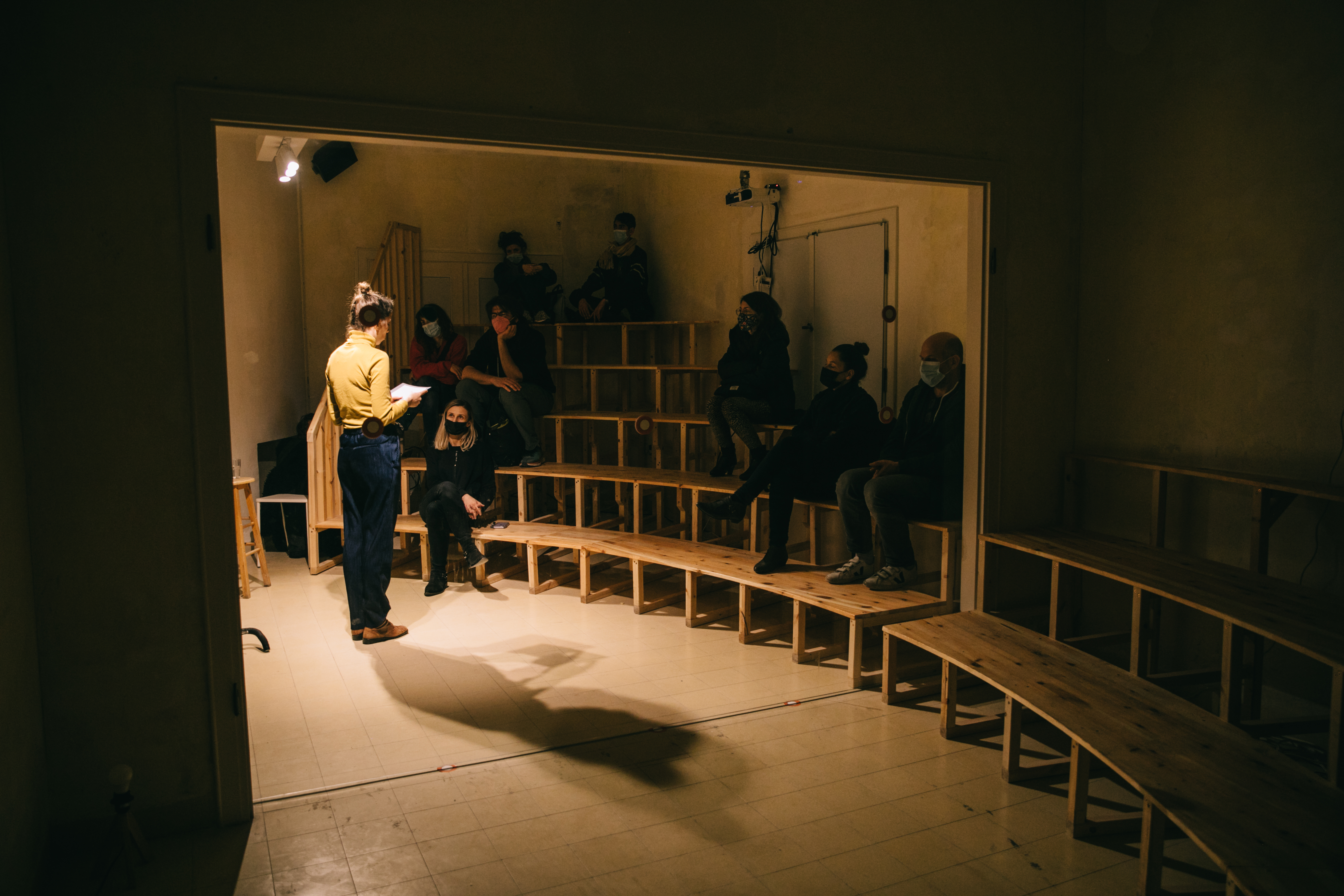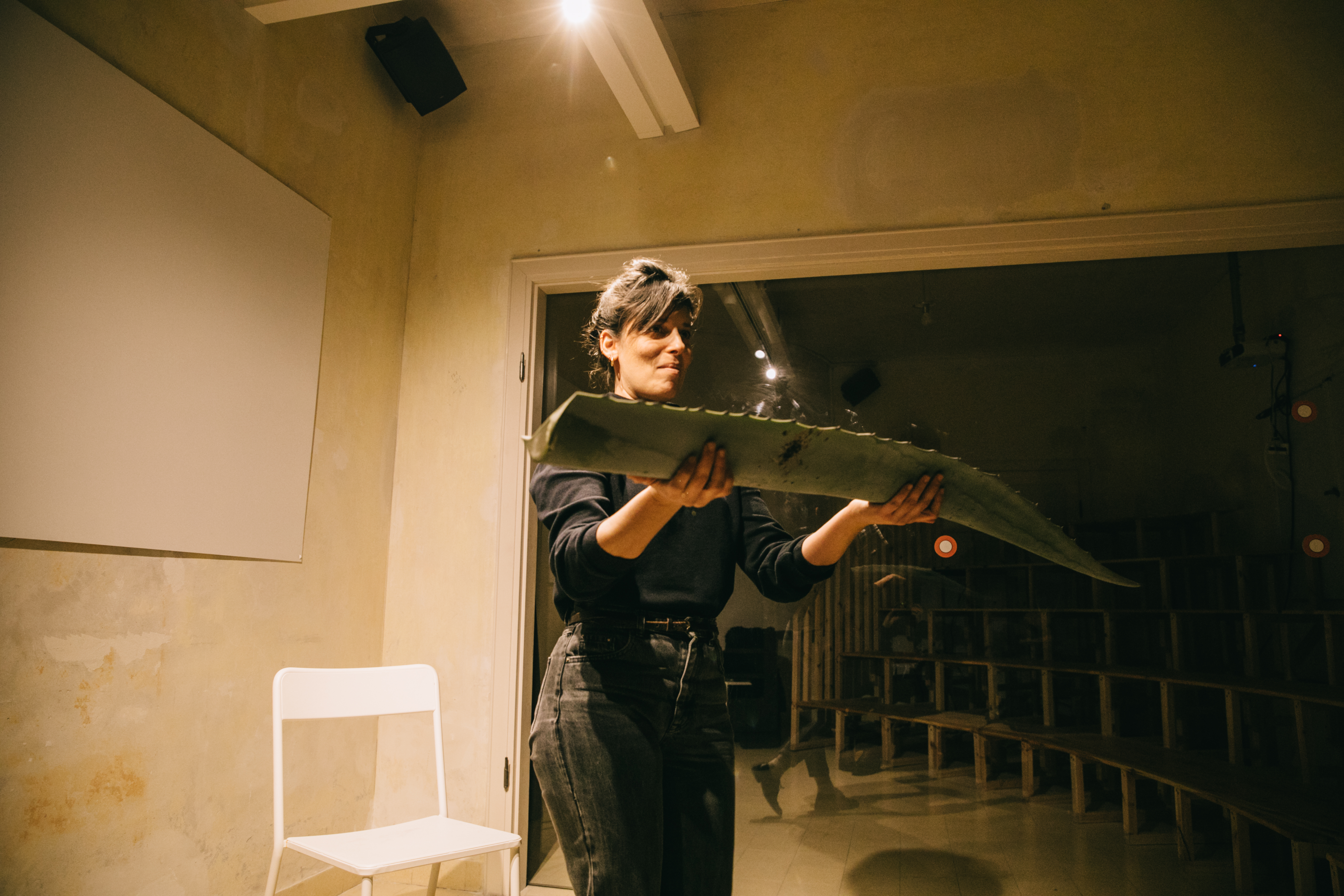 NEW BABYLON
A lecture by Constant ICA London 1963
A short performance re-enactment of Constant's lecture at the London Institute of Contemporary Art in 1963.
New Babylon is a city plan designed to fulfill the desires of the free person, proposing new, creatively passionate architecture. Dutch artist Constant spent 20 years developing and devising New Babylon - he prepared models, blueprints, collages, sound clips, paintings, and drawings presented in a series of international lectures and exhibitions.
The lecture offers a conceptual and physical description of New Babylon and explores the artist's role as a gener
ator of new and exciting ideas and the possibility of experiencing everyday life in the city as art.
with Meshy Olinky